Hello Mandalarians,
Users can purchase MDX here on Mandala Exchange using USDT. USDT can be deposited here over a range of networks including Ethereum (ERC20), Binance Chain (BEP2), Binance Smart Chain (BEP20), Solana, and Tron (TRC20). Users may also deposit other supported tokens and then exchange those tokens for USDT prior to purchasing MDX. Markets for USDT can be found here under the Fiat Markets tab or by searching 'USDT'.
Alternatively, MDX can be purchased here with a Credit or Debit Card and deposited directly into your Mandala Exchange account utilizing Indacoin.io.

Note: The ticker for Mandala Exchange Token (MDX) within the Binance ecosystem is MDXT. An explanation on the difference between MDX and MDXT can be found here.

Purchasing MDX on the exchange
After a successful initial deposit or purchase of USDT, the user will need to determine their MDX purchase order type. The MDX pair currently supports Limit Orders and Market Orders.

Limit Order - An order that you place on the order book with a specific limit price. The limit price is determined by you.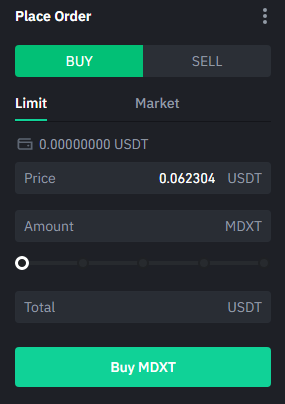 Market Order - A market order is an order to immediately buy or sell at the best available price.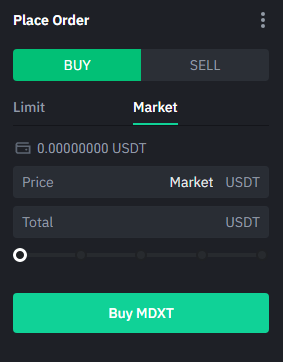 Risk warning: Cryptocurrency trading is subject to high market risk. Please make your trades cautiously. Mandala Exchange will make best efforts to choose high-quality coins but will not be responsible for your trading losses.
Thank you for choosing Mandala Exchange for your crypto trades.